Custom promotional pens are a popular and effective way to promote your brand and increase brand recognition. They can be given as corporate gifts to clients, employees, and other stakeholders. However, with so many options available, it can be challenging to choose the right pen for your brand. In this blog, we'll discuss some factors to consider when selecting custom promotional pens for corporate gifts.
Purpose Before selecting a pen, you need to determine the purpose of the giveaway. Will it be a corporate gift for clients, a thank-you gift for employees, or a giveaway at a trade show? The purpose of the giveaway will help you choose the appropriate pen style, color, and material.
Quality The quality of the pen is crucial when choosing a custom promotional pen for corporate gifts. A high-quality pen will be used more often and for a more extended period. A low-quality pen may get thrown away, which is not what you want for your brand image. Therefore, it is essential to choose a pen that writes smoothly and feels comfortable to hold.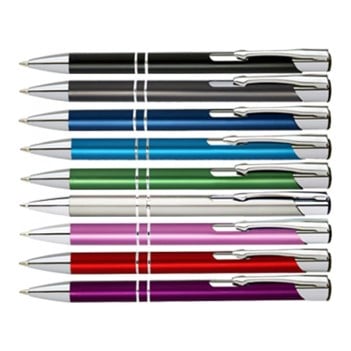 Branding Custom promotional pens offer an excellent opportunity to promote your brand. Make sure to choose a pen that allows for ample branding space. Consider the pen's color and material, which can be matched to your brand's color scheme. Make sure to include your logo, brand message, or contact information to increase brand recognition.
Budget Your budget is an important factor to consider when selecting custom promotional pens. The price of the pen will depend on the quality, material, and style. Determine your budget beforehand and look for pens that fit within that range. Keep in mind that a higher-priced pen may be perceived as a higher-quality gift.
Quantity When ordering custom promotional pens, consider the quantity needed. A large quantity may result in a lower price per pen. However, be sure to order the right quantity to avoid excess inventory and wasted budget.
Functionality Consider the pen's functionality when selecting a custom promotional pen for corporate gifts. Will it be used for signing documents, taking notes, or drawing? Choose a pen that matches the intended use.
Environmental Considerations As more consumers become environmentally conscious, choosing eco-friendly promotional products has become essential. Select pens made from recycled materials or sustainable sources to promote an eco-friendly brand image. Eco-friendly pens can also be used to show your commitment to reducing your carbon footprint.
In conclusion, selecting the right custom promotional pen for corporate gifts involves considering factors such as purpose, quality, branding, budget, quantity, functionality, and environmental considerations. When you choose the right pen, it can help promote your brand, increase brand recognition, and show your appreciation for your clients and employees.
Terms & Conditions apply. Not valid with other offers.
Promotional
Pens Australia
Local Staff, Stock, Printing, Engraving & Service
All pen prices are inclusive of setup, standard freight & GST
Have question or enquiry? We're here to help.