When it comes to marketing, all companies should have a multi-pronged approach. You have to target your audience in a variety of ways. You have to come up with tactics that enhances your brand's cognitive positioning and recall, and have it provide a return on investment that helps your company grow.
When you provide a marketing or promotional strategy to your boss, he wants to know if this will build his company's brand in the long-term, and if it will provide an income above cost in the short-term.
Promotional products are a popular tool that companies use for increasing their brand awareness and recognition. More and more organisations are making use of such products and are finding it very profitable for their business. A survey by BPMA (British Promotional Merchandise Association) suggests that 66% of the participants that received a promotional merchandise gift remembered most of the companies they received it from in the last year, and 79% were keen to work with the companies.
There's a lot more to it than just goodwill.
While the present-day market is flooded with promotional products of all sorts, promotional pens are an evergreen choice that works especially well. Here is your quick guide to the what's and why's and how's of promotional pens.
What are Personalised pens?
Promotional pens are custom-printed pens that, apart from functioning as a normal pen that writes, also advertises some combination of the name, logo, website and/or contact details or a company or professional.  They are also frequently called personalised pens, custom pens or logo pens.  They can be given away at exhibitions/trade shows, at any point of sales, during a prospective client meeting, or even sent out directly to potential customers.
There is usually a range of promotional pen colours available, so you can either match an existing pen with your company logo colour or use full colour digital printing on pens if you have multiple colours in your logo.  For large orders, a custom indent order can be made whereby you can specify the PMS colour of your logo to be colour-matched for the manufacturing of the pens.
What purpose do they serve?
Personalised pens help you establish your company name in the market as well as in the minds of your target customers. There are two main ways in which promotional pens impact your prospects:
First of all, when you give out such pens, they are mostly going to use it in their daily life. This would give them exposure to your name repeatedly. This repetition would function as a cue of recognition in their minds. So, the next time they see your product in a market or want to avail some services that you provide, their brain would guide them to the previously formed recognition. This increases the probability of the prospects contacting you ahead of other suppliers or competitors.
Another way that promotional products influence your prospects' psychology is by creating a 'sense of reciprocity'. This means that receiving a free pen from you would be registered as a 'favour' in their unconscious mind. Thus, they are more likely to return the favour by approaching your company before others when they need the products/ services from your industry.
Why pens are effective marketing tools?
Why should you choose pens instead of other promotional products available in the market?
1. Pens Are Convenient
Number one, pens are the most convenient of all. Whether in terms of design, handling, production or custom printing, pens are one of the most convenient options. So, if you want the benefits of promotional products but don't have the resources for the extra efforts, pens are an easy choice.
2. Pens Are Affordable
Secondly, the cost of getting customised pens with your company name is way less than other promotional products. In fact, pens have the lowest manufacturing and printing cost amongst comparable promotional products.  Promotional pens help you reach a substantial share of 'targeted' audience at a much lower cost than other marketing media like advertisements.
3. Useful, universal and evergreen
Thirdly, pens are useful, universal and an evergreen product that will not lose importance over time. While other promotional products can be discarded by the audience due to 'preference' issues, everyone like a decent quality pen.  And everyone can do with a spare pen handy.
What are the effective ways to use Pen Marketing?
Personalised pens are pretty versatile and can come handy as a promotional tool in many instances. Some of them are:
Give them to your customers whenever they make a purchase. It will help them remember you better and they are more likely to come back to you;
Give them to your potential customers at your company's events or trade shows. This will generate the 'reciprocity' mentioned earlier;
Make your Sales Team use these pens only. When they will use it in front of your target customers, it will create a deeper impression of professionalism in their minds;
Make them 'THE pens to be used' in your office/ store. This will make your employees feel a deeper sense of affiliation to your company.
How much do Personalised Pens cost?
Custom printed personalised pens are typically one of the cheapest promotional products available.  The price of pens and storage are relative low, and the space required for storage is small.  One caveat, unit pricing does tend to decline with volume, as there is a set up cost and time associated with printing, so please ask for price breaks at different quantities.
Budget printed personalised plastic pens can be as cheap as AUD0.20 at large quantities (often cheaper than buying generic pens retail), while premium pens can be upwards of AUD $20 per pen, and branded pens like Parker, Scheaffer and Cross can cost over AUD100 per pen in a nice pen and box gift set.  The choice depends on which industry you're in, the value of your (prospective) customer, and the purpose intended.
What are the potential benefits or Return On Investments?
For smaller companies or individual proprietors, a promotional pen with a simple company name and phone number (or preferred contact details) is probably the most cost-effective advertising giveaway.
For medium to large companies or organisations, we recommend that using promotional pens in conjunction with other promotional and marketing products.  It is easy to think by handing out pens at a conference or trade show with your name, logo and contact on it, customers will take it back and get in touch with you.  But that may not always be the case.
So what can be used in conjunction?  A pull up banner with your company name and logo, catchy images and slogan or special offer to draw attention to your booth.  Company brochures or flyers with more detailed information, or perhaps vouchers to entice follow-up enquiry.  Perhaps a thematic promotional product giveaway, for example, if your prospects are in the building construction or handyman industry, custom printed monkey wrench multi-tools would be an extremely useful giveaway.  There is probably a promotional product for most items you can imagine.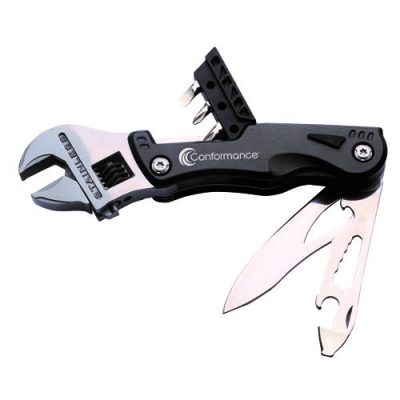 So what is the ROI?  There is no data for it, as it depends on each customer and would differ depending on the product and how it is used.  But an industry that has grown for 50 years must be helping boost sales.
A low cost, high usability, convenient and evergreen product used to build brand recognition and recall cannot go wrong.  If you have a limited budget, promotional pens are the best choice.  If you have a larger budget or want to try a multi-prong approach, promotional pens should be the staple from which a promotional products giveaway bundle is based on.
Choose a quality Pen Printer & Supplier
There are a lot of companies in the market that specialise in manufacturing custom promotional products. However, if you are purchasing some pens for your company, it is highly advisable that you approach an Australian company that has:
More than 10 years of experience in the industry
Graphic and artwork design/layout/digitising capabilities
Local and in-house printing of pens with a standard turnaround time of 10-12 days, and the ability to accelerate your order for express deliveries from as fast as 5 days*.
Sample pens available for those that need to be assured of quality before mass production and printing.
A wide range of pens from cheap plastic to premium, branded metal. A good supplier would stock over 100 types of pens each with various colours comfortably.
Using promotional pens is indeed a versatile and productive way of brand placement. Whether you are a small-scale start-up or an established MNC, such pens can, without a doubt, be useful for you. So, go ahead and get such pens that flaunt your brand and its information in an attractive way.
Are you ready to experience the same benefits? If so, find out more now by either calling us on our toll-free number 1800 008 466 or by filling out the enquiry form or emailing the [email protected].

*Subject to stock, production schedule and couriers delivery availability.